October 24, 2018
How To Use Gamification To Enhance Compliance Training – Featuring 4 Examples
Gamification is used extensively to create sticky learning experiences, and compliance trainings too can use it to influence user behavior and create higher conformance. In this article, I share 4 examples of gamification for compliance training.
4 Ways You Can Use Gamification To Enhance Compliance Training
To meet the mandates of the government or regulators, compliance trainings continue to be a significant part of any corporate training.
Over the last 25 years, the compliance trainings have been offered in the online format. During these years, the learning strategies to craft online trainings have undergone a sea change.
Yet, till recent times, the compliance trainings have not embraced many of the new learning strategies that can help the compliance mandate (understand the significance, impact non-conformance, and trigger the required behavioral change).
What Can Be Done?
Since our inception in 2002, at EI Design, our focus on designing compliance trainings with approaches that are engaging (and often "out of the box") has helped us create a large compliance practice. Till date, one out of six courses on the floor is for compliance training.
At the core of our compliance practice are a series of measures including:
A set of approaches that can help organizations see the required behavioral change (we call this our 4-tiered online compliance strategy).
The usage of several engaging learning strategies including gamification, scenario-based learning, story-based learning, and so on.
In this article, I outline:
Our unique 4-tiered online compliance strategy.
4 examples of how you can adopt gamification in compliance training.
When adopted in conjunction, you will see more engaged learners, higher retention of information, and over a period of time, you will see the required behavioral change that your compliance mandate requires.
Why Do You Need To Relook At The Approach To Offer Compliance Training?
Unlike other trainings that help learners improve their skills or acquire a new skill, the compliance trainings are "mandatory" programs. The learners have no intrinsic motivation to take them up.
On top of this, most compliance trainings tend to be boring. A majority of them follow traditional approaches (read "bland and not engaging enough") with a heavy dosage of prescriptive dos and don'ts that do not go well with adult learners.
Furthermore, the information is not provided in a format that learners can internalize easily and push them to do the right thing (particularly, when they are in a dilemma situation).
My belief is that for creating effective compliance trainings, we need to take an integrated approach that factors for:
Creating awareness (to offset the lack of intrinsic motivation).
Using better learning strategies that engage learners and push them to think and analyze the consequences of certain actions (to engage the learners and ensure a sticky learning experience is created).
Retaining a connection with the learners (even after they have completed the required training) through learning aids (Performance Support Tools or PSTs) that offer reinforcement and related updates. Over a period of time, this would lead to the required behavioral change.
At EI Design, we have translated this approach to the following 4-tiered online compliance strategy that you can use.
Our 4-Tiered Online Compliance Strategy
Tier 1: Measures to be adopted prior to the compliance training roll-out through awareness campaigns
Tier 2: Opt for mobile learning and immersive learning strategies including gamification to design compliance trainings
Tier 3: Measures to induce the required behavioral change (triggers for the behavioral change)
For the longer-term goal of the required behavioral change, we have seen initial success with the use of Performance Support intervention.
We use learning aids (Performance Support Tools or PSTs) that provide the required support to reinforce the primary learning and aid in triggering the right action (in a dilemma situation). Here too, we use interesting and high-impact video-based formats, as well as interactive PDFs and interactive infographics.
Tier 4: Continue to connect with the learners (post the roll-out of the compliance training)
We need to eventually see the learners undergo the desired behavioral change to sustain the required compliance. One measure is to create communities of practice that focus on your various compliance training programs. Through this, you can continue to interact with learners after they have successfully completed the mandated training.
Using Strategies Like Gamification In Compliance Training, What Tangible Gains Will You See?
Gamification is used extensively for various corporate training needs. Over the last few years, it has shown its ability to create a sticky learning experience. When applied right, gamification in compliance trainings can create:
High engagement
High recall and higher retention
Correct application (doing the right thing)
Strategies like gamification for compliance training provide several gains for both learners and business as shown here:
Gains From The Learner Perspective
High engagement
An immersive experience that encourages the learners to take the course with interest and enjoy the learning journey
Gains From The Business Perspective
Instills the spirit of 'why comply'
Leads to the required behavioral change
We use several immersive and sticky learning strategies that push learners to analyze and act correctly (in line with the compliance mandate). These include:
Partial gamification
Gamification
Microlearning
Personalization
Scenario-based learning
Story-based learning
Interactive video-based approach
Now, I pick 4 examples from our vast repository of solutions featuring gamification in compliance training.
Examples Featuring Gamification In Compliance Training
Example 1 – Gamification In Compliance Training: Graduate As A Compliance Auditor
A gamified compliance course where the learner is part of a fictitious team and is assigned tasks (content exploration) that are associated with challenges (decision-making).
Use of relatable context and characters with a fully gamified assessment enhances learnability and promotes sticky learning. The scoreboard and levels achieved during the training ensure constant learner motivation.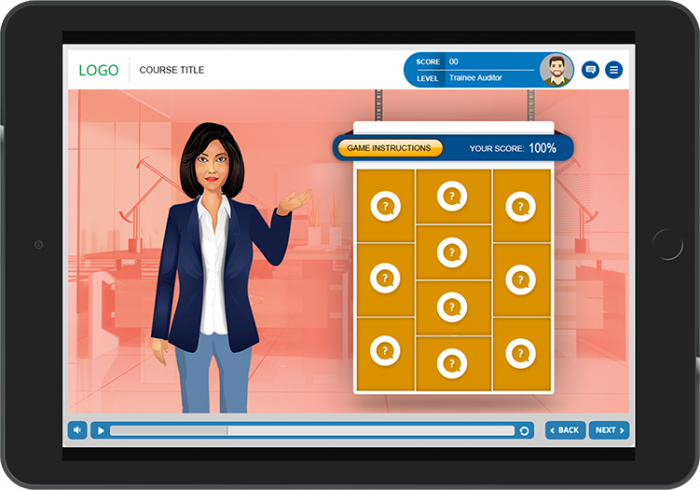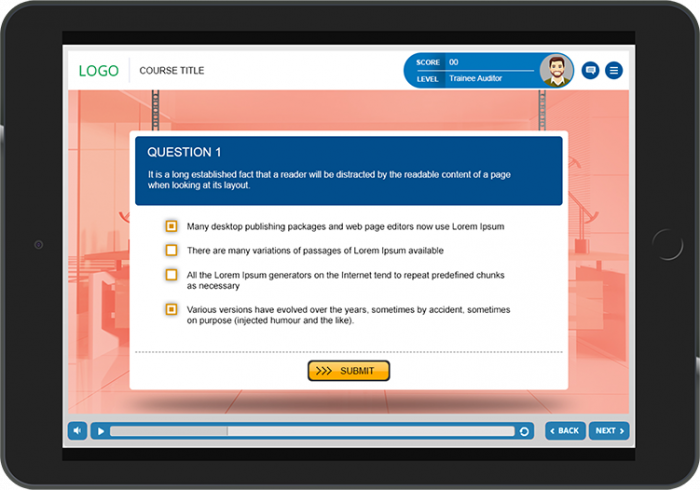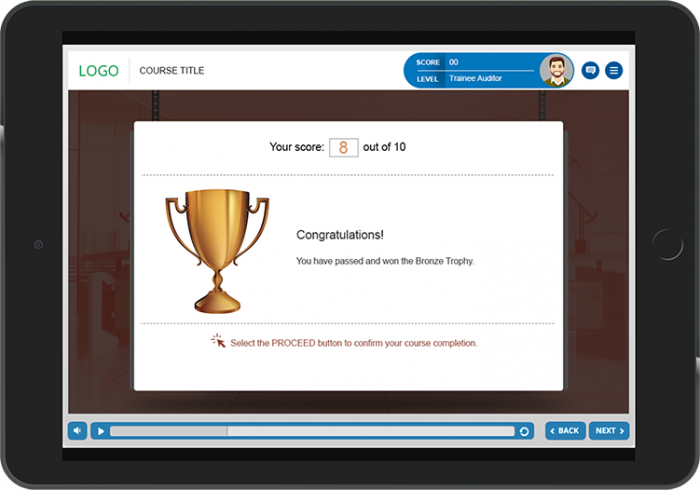 Example 2 – Gamification In Compliance Training: Win The Access Code Game
A gamified learning journey where the learner is immersed into the content by choosing an avatar and traveling from one location to another in an office space.
The learner, on successfully attempting an activity at the end of each location, was provided with an access card to move to the next location.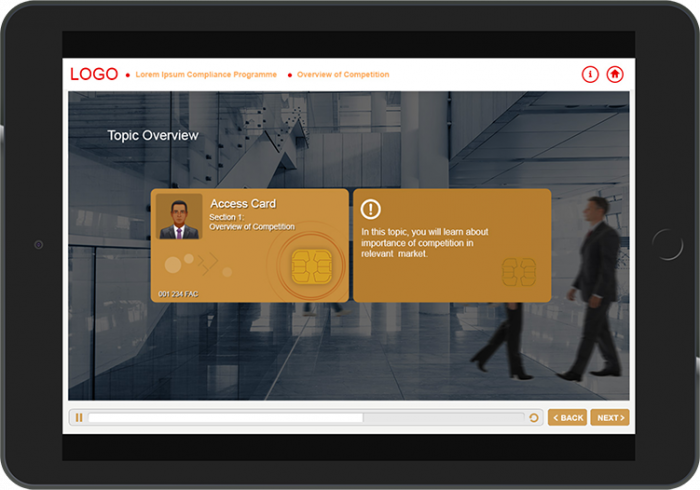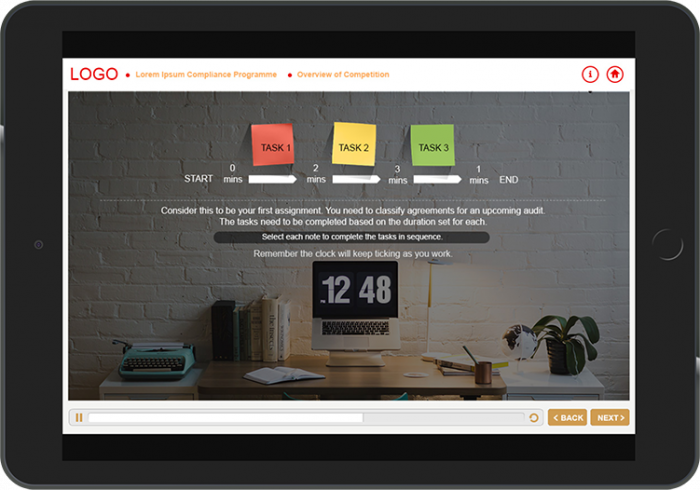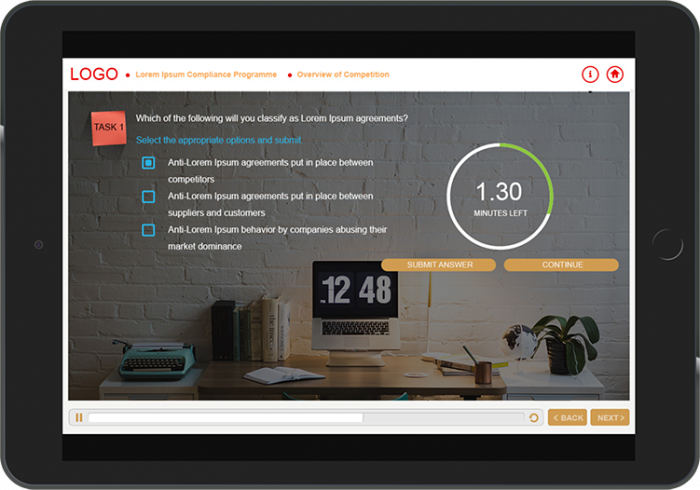 Example 3 – Gamification In Compliance Training: The Island Migration Game
A gamified compliance course involving fictitious islands that a learner needs to cross to reach a destination. On each island, the learner has an option to take a tour (content exploration) or take a challenge (quiz questions).
This increases the engagement quotient, as learners have greater control over their own course of learning. A gating criterion with required accuracy ensures adherence to the overall compliance mandate.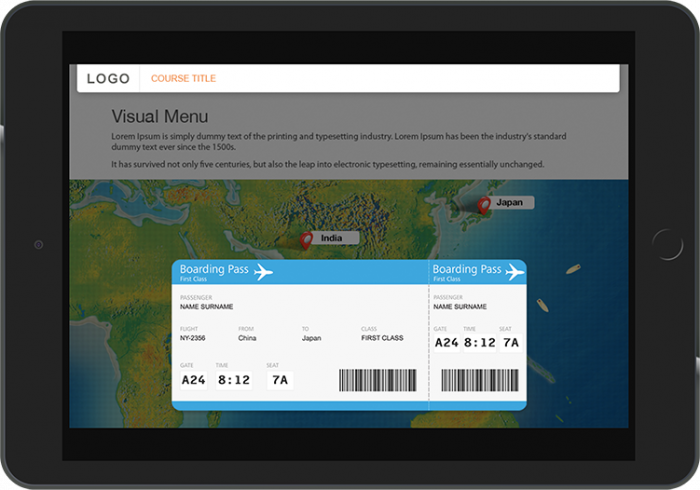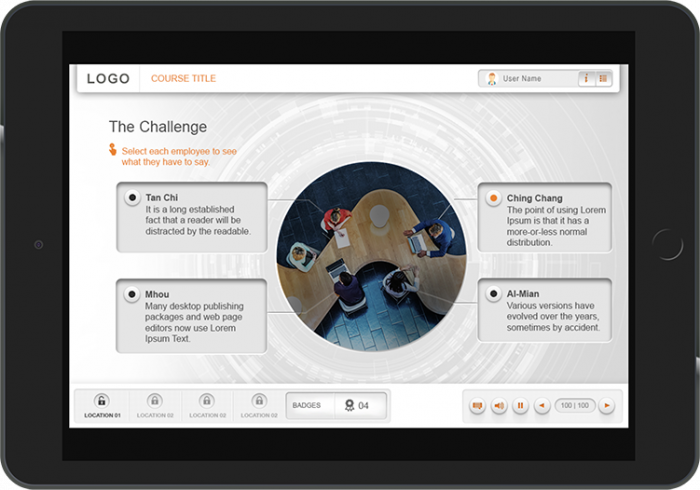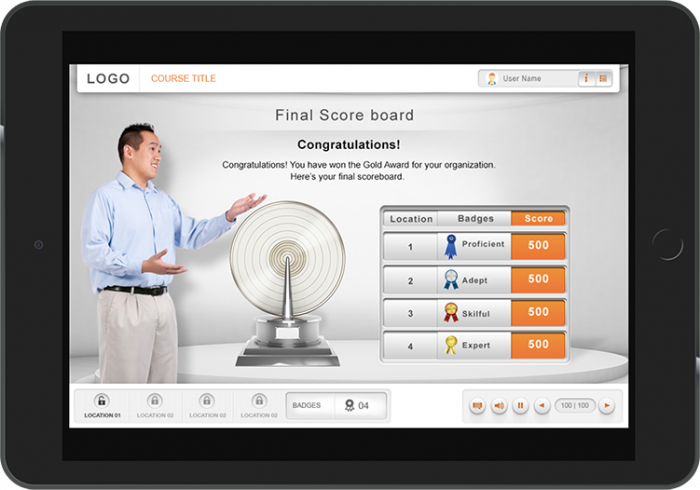 Example 4 – Gamification In Compliance Training: Compliance—Code Of Conduct Game
We converted this course on Code of Conduct into an immersive game-based learning experience where learners had to explore a city and find the key to the code document.
At each stage of the course, they were challenged using real-life situations, and they had to make decisions that would have a bearing on their points and the level of expertise achieved in the topics.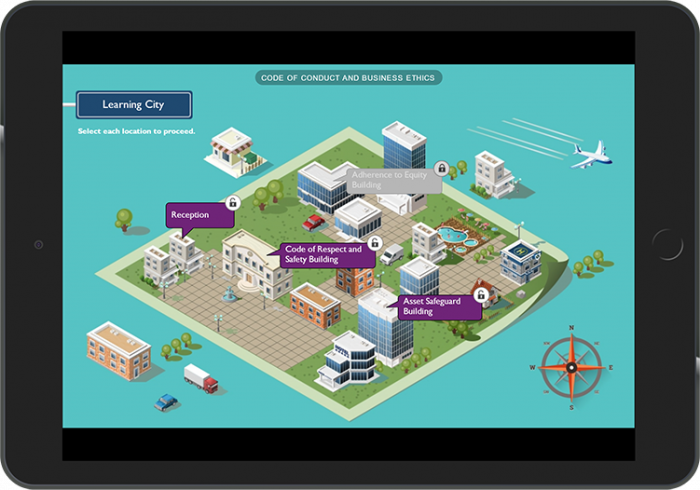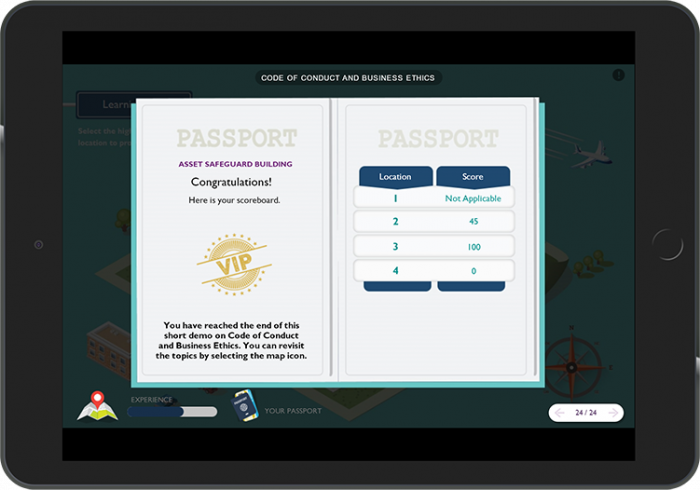 I hope this article gives you compelling reasons to adopt gamification for your compliance trainings and the featured examples show you the possibilities. Furthermore, I hope our 4-tiered online compliance strategy can add further value to your current approach.
Source: https://www.eidesign.net/how-to-use-gamification-to-enhance-compliance-training-featuring-4-examples/